Yoga + Mindfulness Classes for Children, Teens + Families
We offer classes for all ages from 6 weeks through teens as well as workshops, special events, summer camp programs and birthday parties.
Regularly scheduled classes run in 6-week sessions because this gives kids time to learn to manage anxiety, grow emotionally, build self-esteem, and connect with each other. 
At Just Bee Yoga + Well-being we introduce youth of all ages to the benefits and joys of yoga, breath-work and mindfulness.
There are wonderful physical benefits of yoga including improved strength, balance, coordination, body awareness and flexibility.
We also strongly believe in the emotional benefits of yoga, mindfulness & breath-work.
These are lifelong tools that can be used on – and off – the mat for overall health and well-being.
"If every 8 year old in the world is taught meditation, we will eliminate violence from the world within one generation."-Dalai Lama
Welcome!
I'm so glad you are here!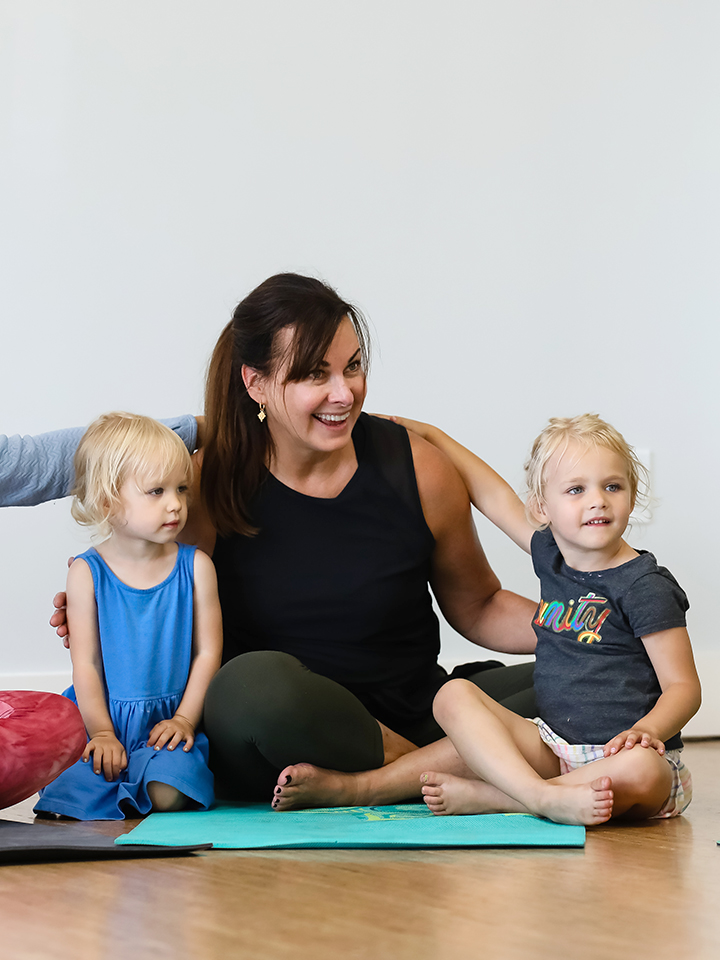 Hello! I'm Kay Epple and as a mother and grandparent I'm excited to share yoga and mindfulness with children everywhere.
I was first drawn to yoga for the physical practice, but I soon learned that asana was just a small part of yoga. As a busy mother of four it quickly became a passion that brought me peace like nothing else ever had.
My first teacher training was taken with the intent of deepening my own practice, but I soon realized it was something I needed to share. After obtaining my RYT 200 I realized the incredible benefits of yoga + mindfulness for all ages. I followed up with my RCYT to specialize in yoga for children, teens and families. I wished I had this training and information when my children were young, but with eleven grandchildren and counting a mission was born!
My trainings include, but are not limited to  Well Bean Kids Yoga, Rainbow Kids Yoga, Karma Kids Baby Yoga & Developmental Movement, Cosmic Kids, Yogi Beans Tween Immersion, Yoga Ed Trauma Informed Yoga, and  Certified YOGABODY® Breathing Coach,
I am passionate about providing children and families with tools for living healthy, happy lives.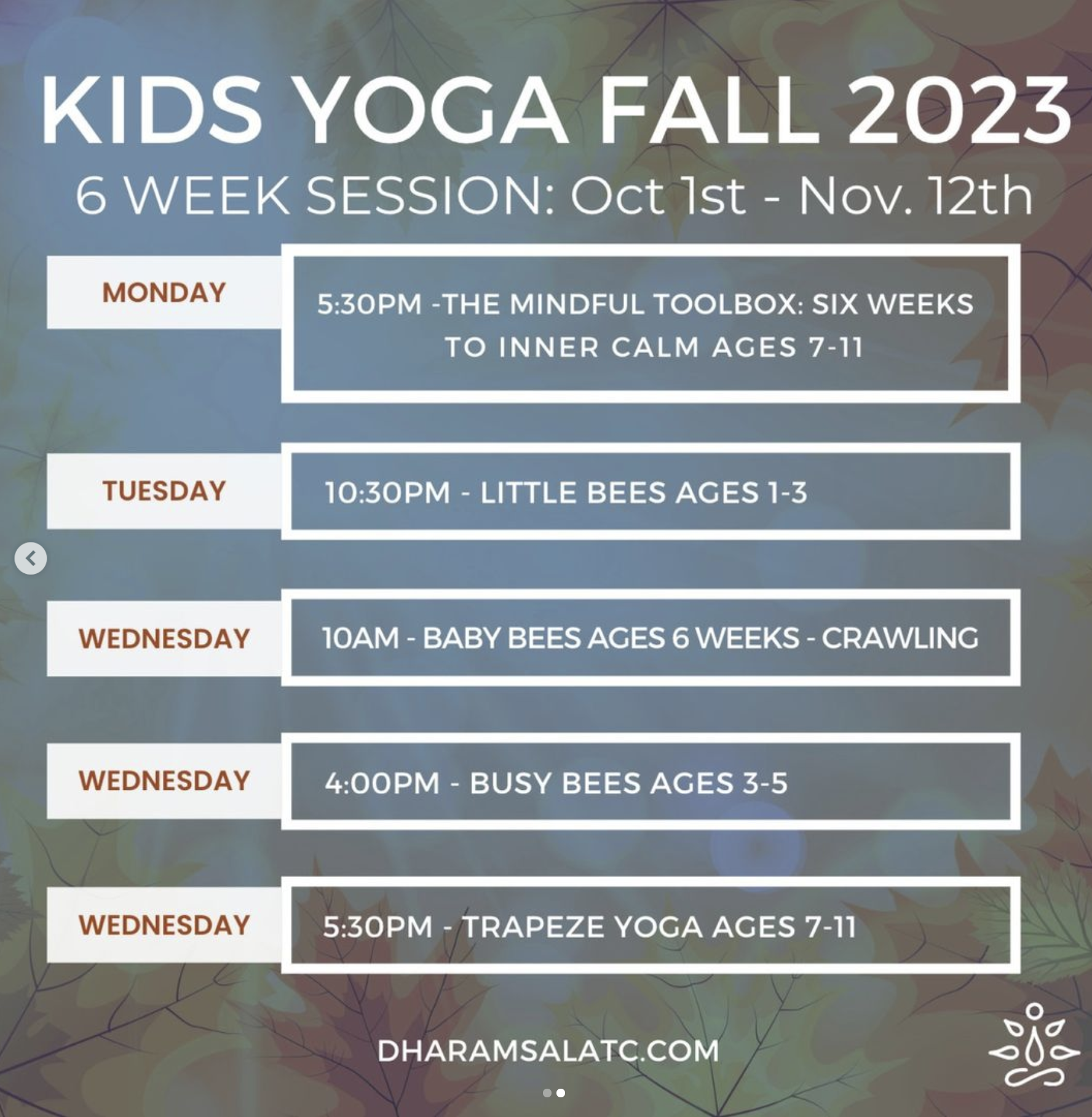 Baby Bees
(ages 6 weeks-crawling)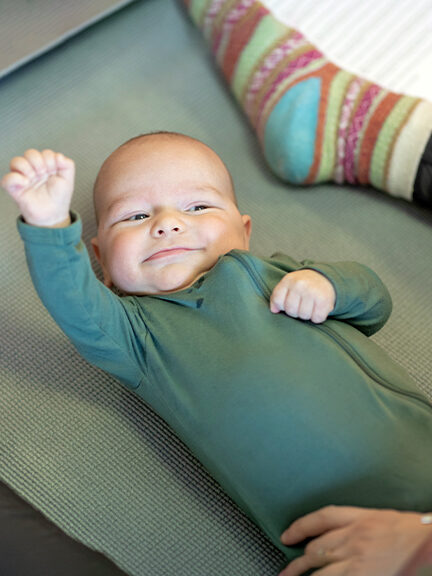 This fun class is all about baby! Learn yoga and exercises specific to baby's muscle and brain development as you help them strengthen muscles needed to move into their next stage of development and begin sitting, scooting, crawling and walking.
Baby yoga aids in digestion, promotes better sleeping patterns and even tummy time will be fun as we sing and play! Moms, Dads and caregivers are welcome!
Class is 45 minutes and even includes some shoulder stretching poses for the grownups so they leave feeling refreshed!
Little Bees
(walkers – age 4)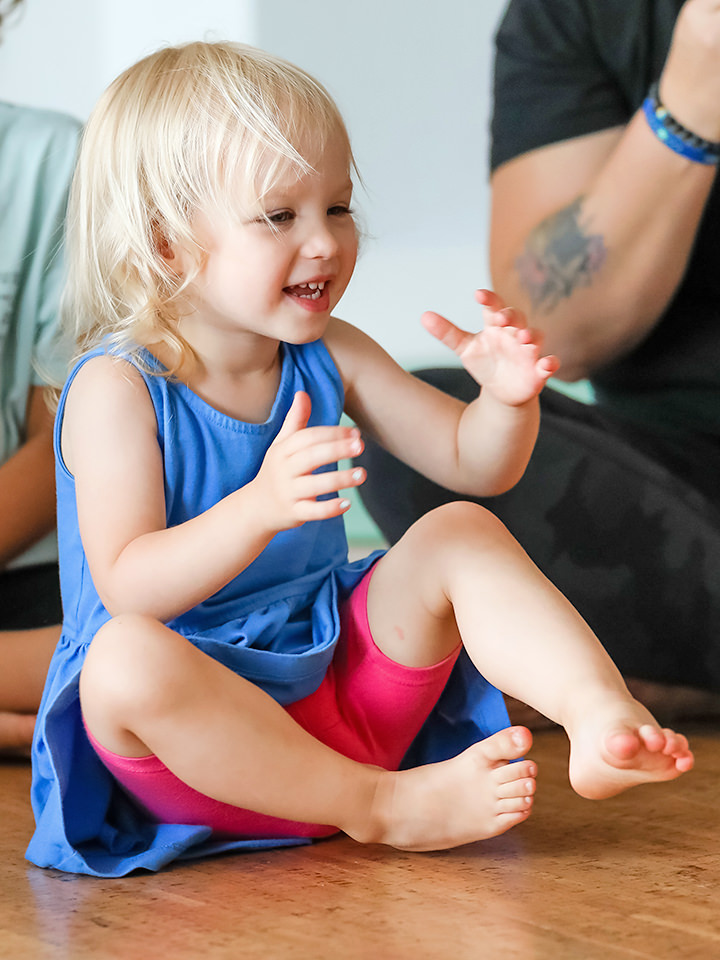 Partner with your Little Bee in fun, animated poses as we take a yoga adventure! We combine yoga poses with fun songs, puppets, singing and dancing plus some free play time. We'll bark in downward dog, hiss in cobra pose and flutter our butterfly wings as we stretch, balance, twist, bend and play yoga! We'll plant seeds for kindness, compassion, empathy, connection, confidence, body awareness, self-regulation, finding our calm, sharing and for bonding between parent & child, all while strengthening growing muscles and using our imaginations. Mom, dad, grandparent or caregiver welcome. This class is for walkers through age 4 and is 45 minutes long.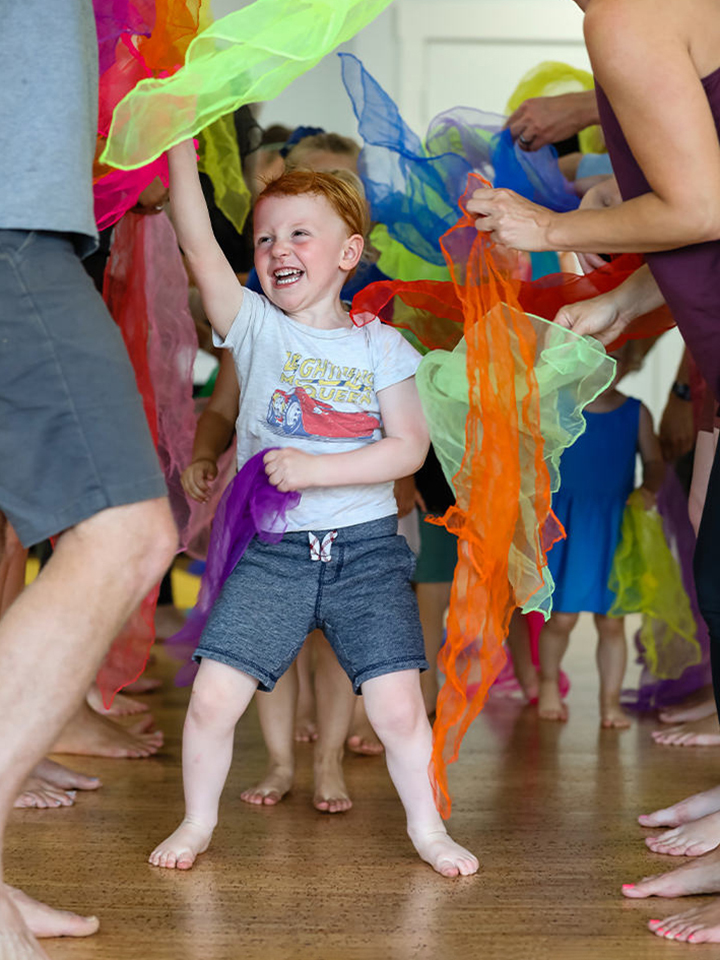 Join us for yoga adventures, games, mindfulness and relaxation.
Fun themes and interactions introduce this boisterous age group to yoga + mindfulness giving them lifelong skills for self-health, relaxation, stress reduction, and overall well-being.
Kids Connection Corner
(ages 5-12)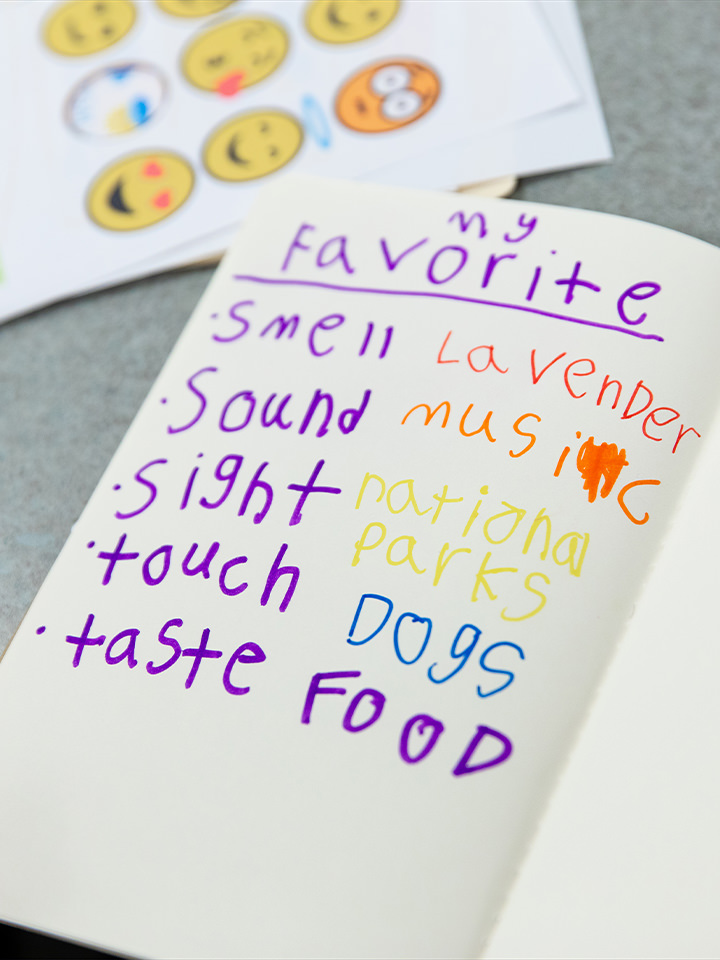 Ages: 5-12 Connection corner is a mixed-age yoga, mindfulness, and social emotional learning class. This class will incorporate movement, music, breathing exercises, games and creative projects. All activities will be designed to build confidence, self-awareness, and connection.
Mixed age groups provide an opportunity for children to take on and experiment with different roles within the group.
Connection Corner will be a space where kids are free to play, learn, share, grow, and connect with one another.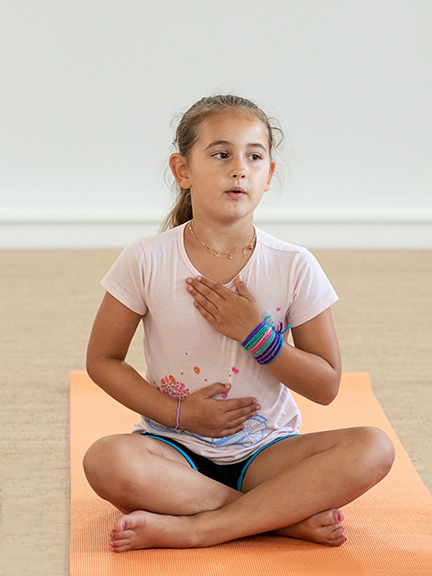 With this boisterous age group, we combine music, cooperative games, breath-work, mindfulness exercises, relaxation and yoga into a fun 60 minute class.
We encourage focus on inward mindfulness, opposed to perfect poses. However, healthier bodies will be the result of poses that stretch, strengthen, and build coordination.
This combination of yoga and mindfulness gives children lifelong skills for self-health, relaxation, stress reduction, and overall well-being.
Trapeze Yoga for Kids
(ages 7-11 only)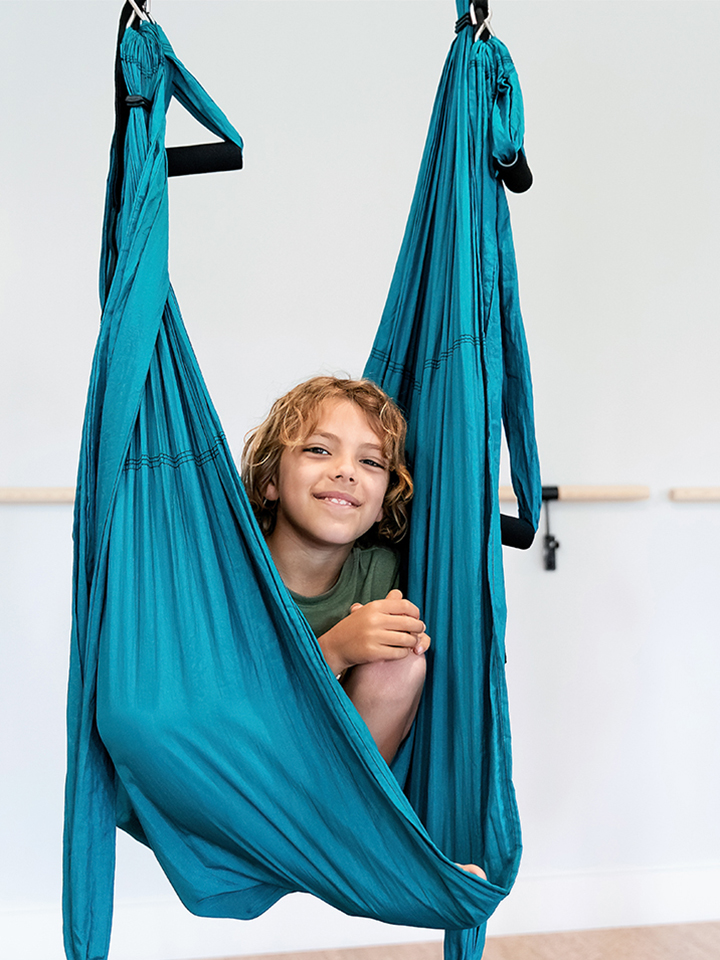 Trapeze yoga for kids is an experience you won't find anywhere else in Traverse City! Your child's face will light up when they experience the feeling of the yoga trapeze. Children will be taught how to safely use the hammock in a fun and interesting way while also intertwining mindfulness and breath work into each class. kids trapeze yoga is a unique way to feel support from the sling and encouragement from friends! FUN GUARANTEED!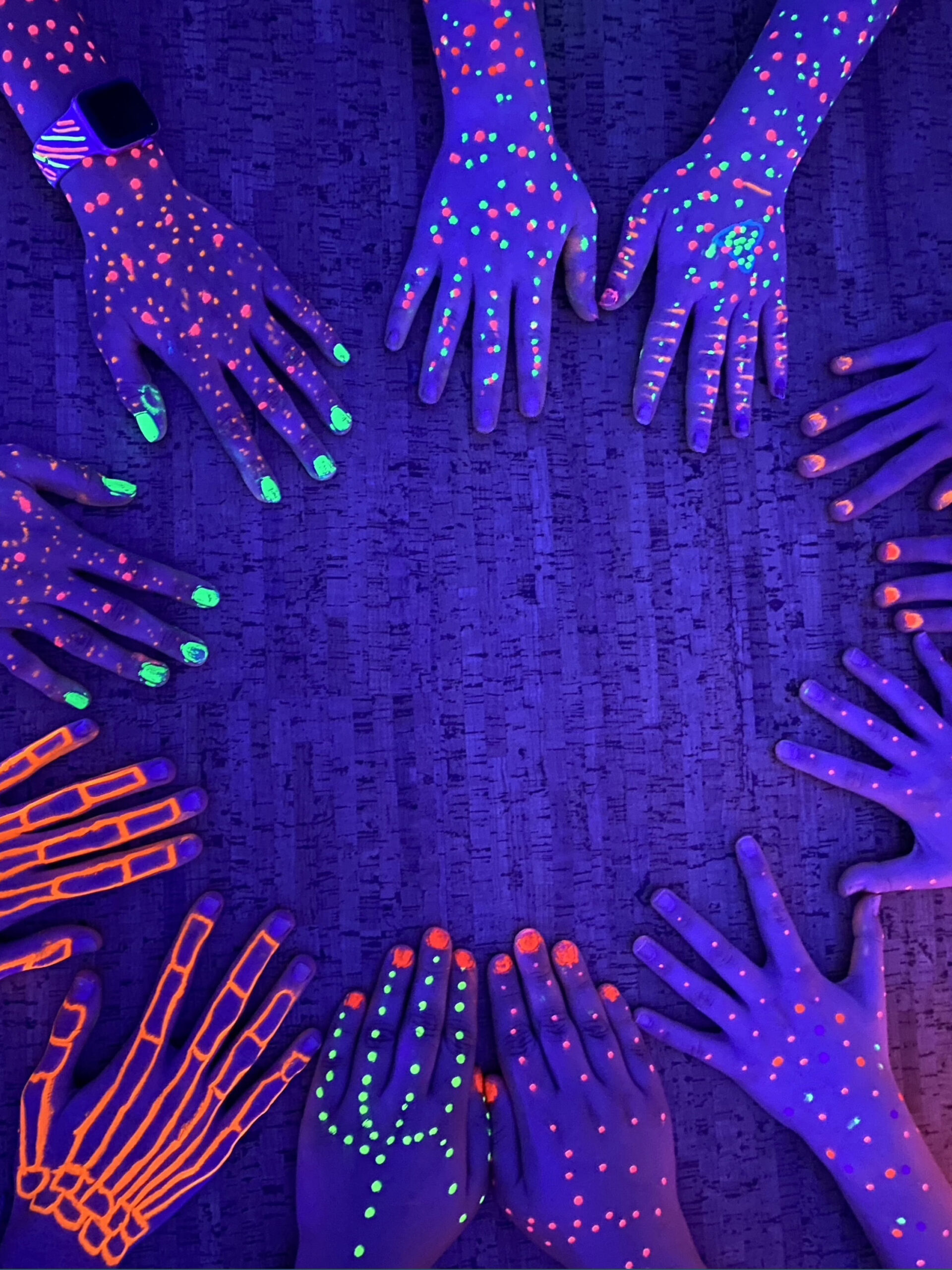 Many of today's youth feel constant stress, anxiety, and pressure to perform. Yoga + mindfulness classes give teens and pre-teens some much needed "down time".
We encourage respect for others along with a love for one's self, inside and out as we explore concepts such as trust, loving kindness, peace and gratitude.
Most importantly, these 60 minute classes are creative and fun providing a safe and encouraging environment for teens and tweens to relax and "just bee".

Special events + workshops
$35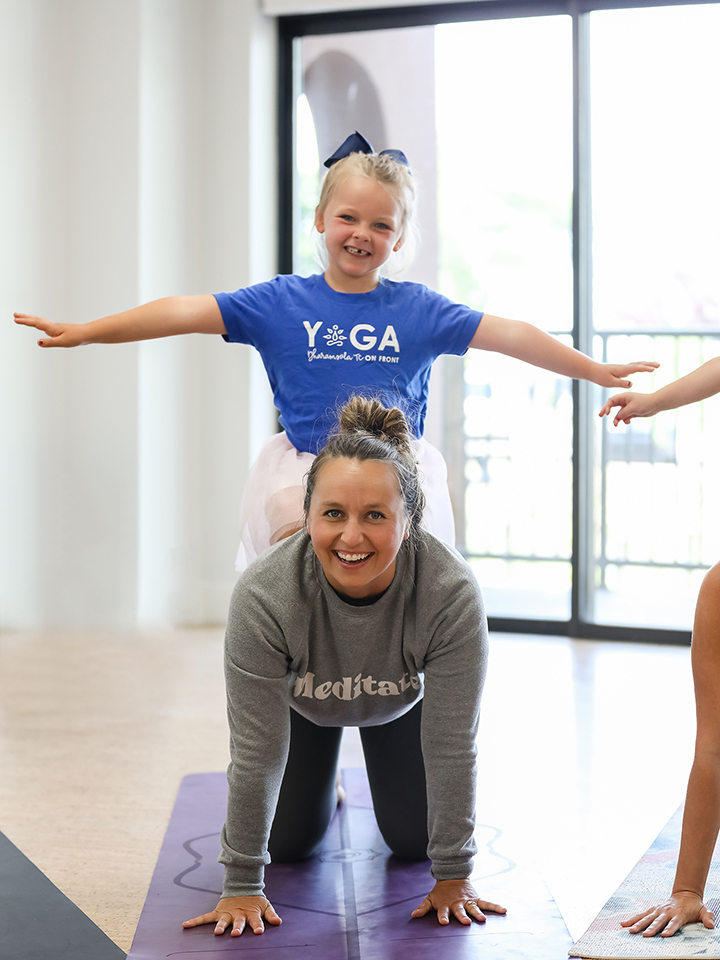 Yoga practiced as a family encourages cooperation, communication and respect between children, parents and siblings.
These lively classes incorporate basic yoga poses, breath-work and relaxation through creative and fun yoga-themed adventures. We create a safe space for connection and play.
The class curriculum is designed for ages 4-11, but we welcome all ages from 0-113!
Don't miss our special events!
We offer ongoing special events including Just Bee Night IN, Glowga parties, SUP classes just for kids, and more!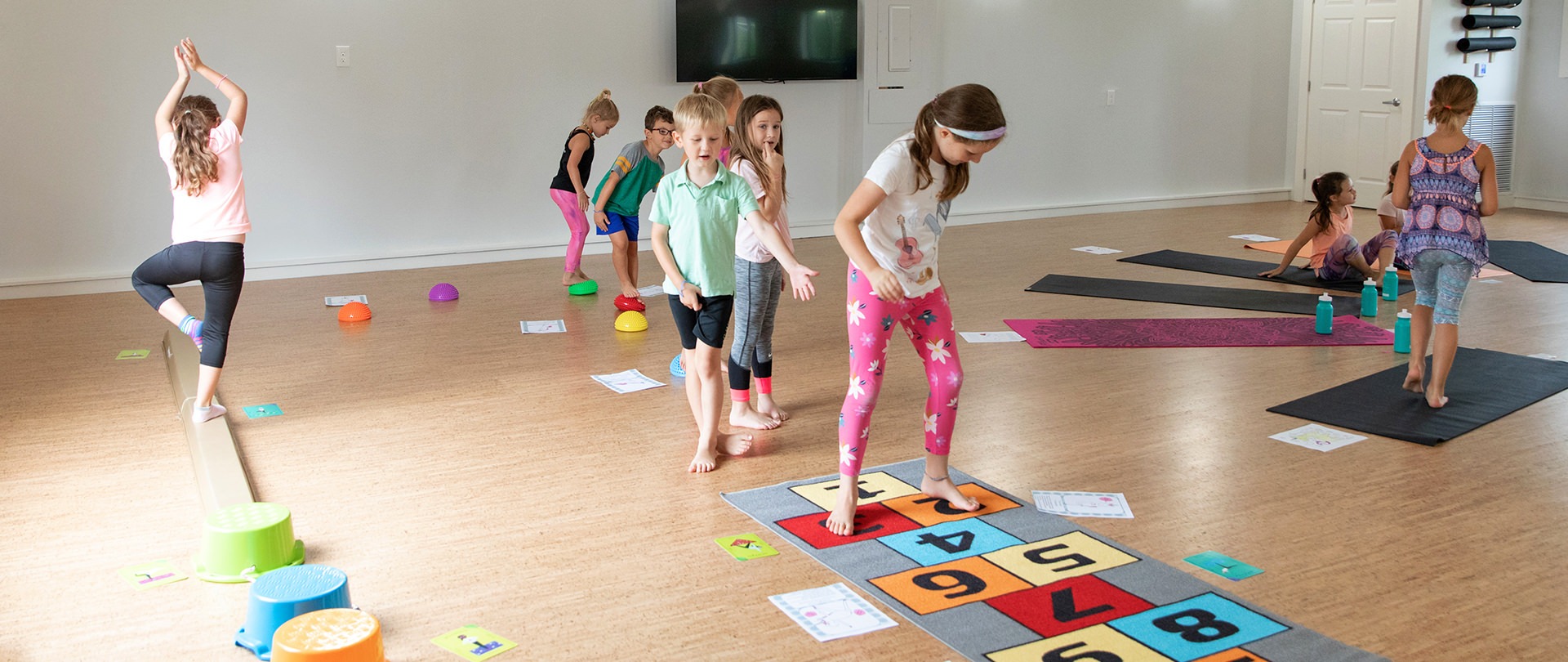 Yoga Parties are a fun and exciting way to share the practice of yoga with your friends as you celebrate your birthday, family gathering or special occasion – Yoga Style.
Trapeze Yoga Parties are another super fun option!
We customize your party based on the wishes of the guest of honor.
Call 231-421-3808 or email to plan your party. Because yoga together is fun!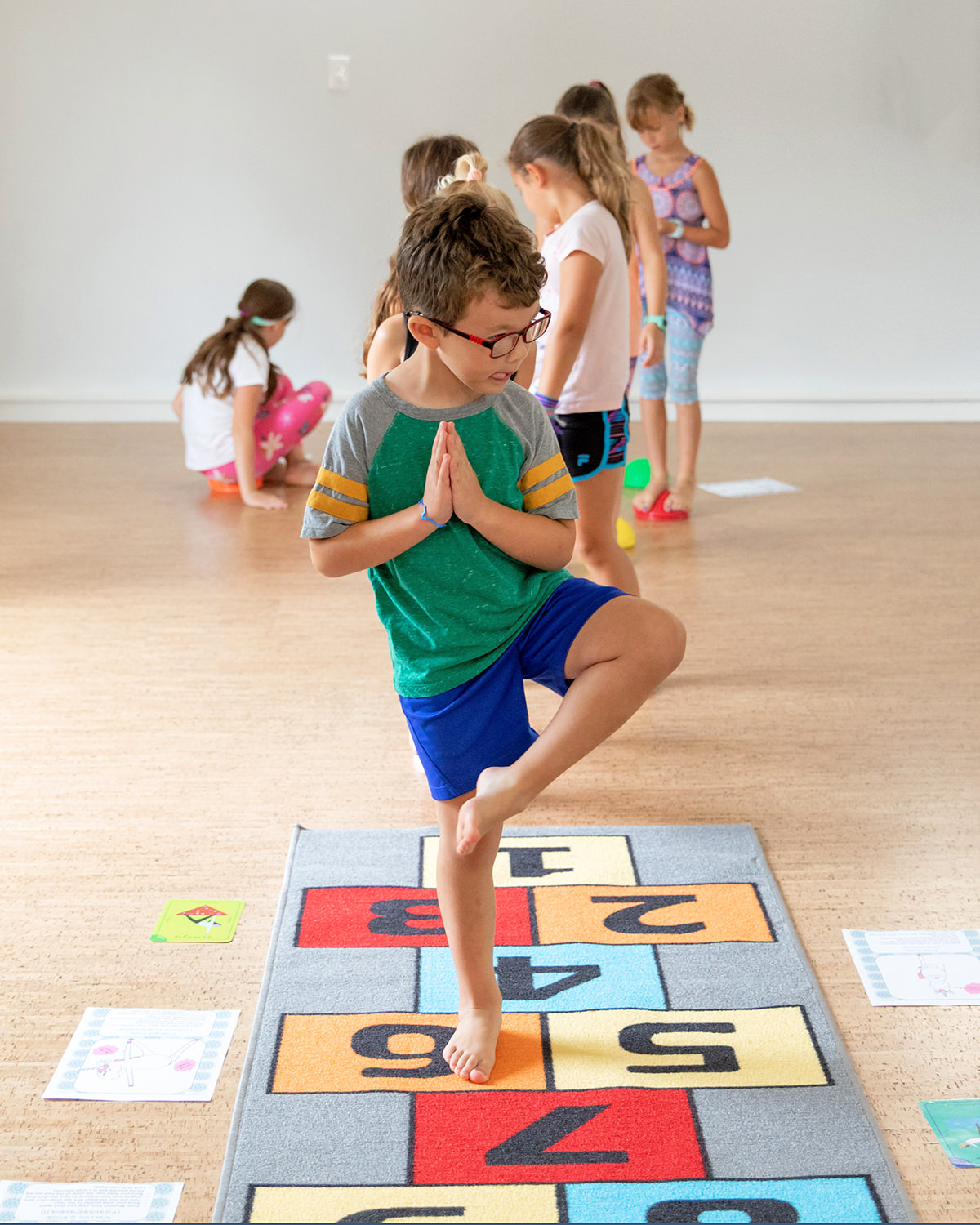 (1.5 hours)
$250 for up to 12 kids
$15 for each additional child
(up to 20 total)
Contact us to discuss additional craft add-ons.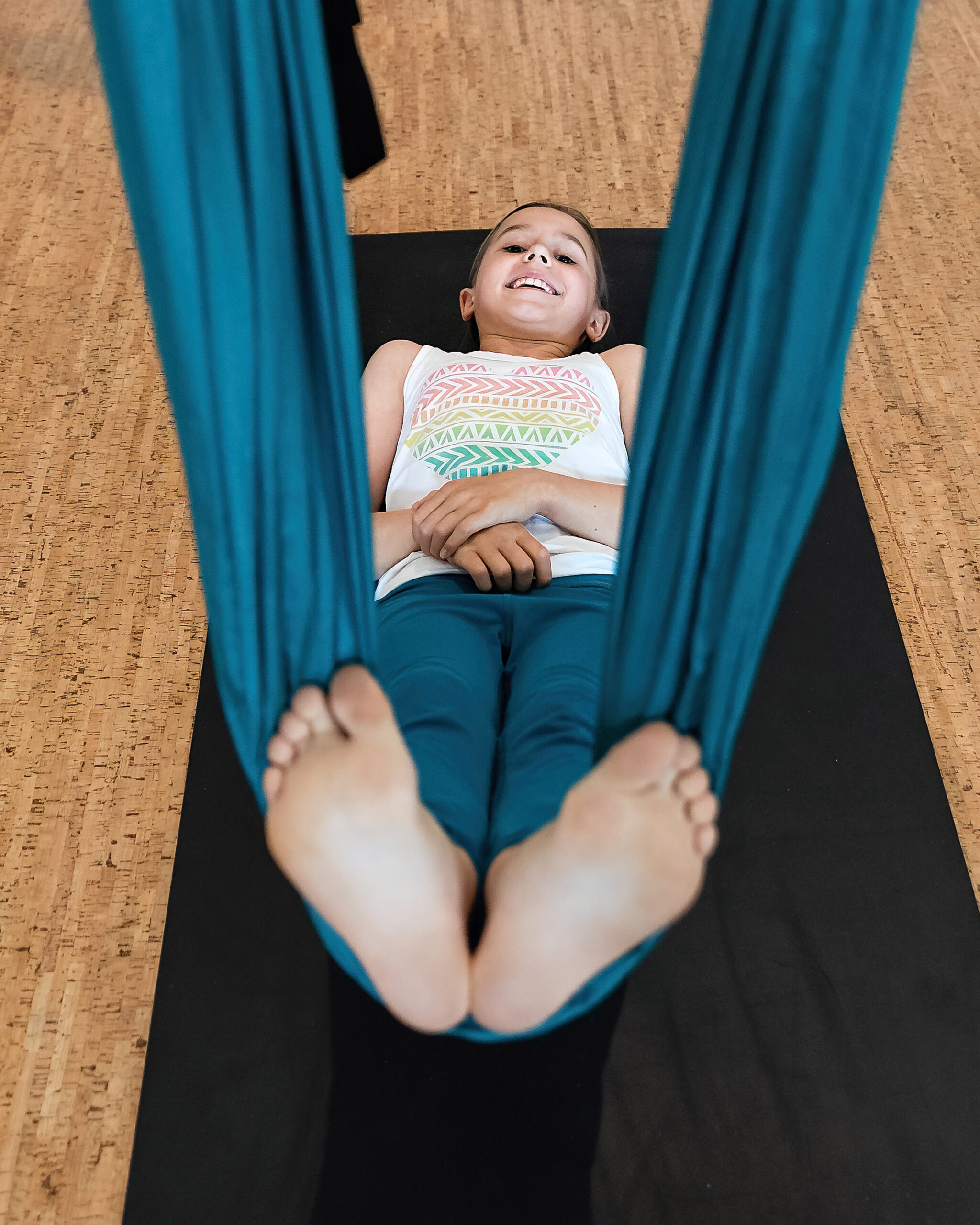 Providing Lifestyle Tools for Children and Families
Through Yoga + Mindfulness.
Address
Two Traverse City Locations!
869 Robinwood Court
319 Front Street
Traverse City, MI 49686